Birds of Chicago play rock and roll in the old sense of the word….blues, country, gospel and folk…sunlit, dappled in shadows….poetry you can dance to and poetry you can play really loud.
In so many ways, we are a word weary culture, ever searching for ways to communicate in fewer and fewer words, letters, syllables…Our online, blogged out, you-tubed attention spans are truncated and fragmented like never before. Birds of Chicago, the collective centered around Allison Russell and JT Nero, reassert the simple notion – radical in these times – that beautiful words and music can still tap deep veins of emotion.
Music this raw and soul-rich demands to be experienced live, and Birds of Chicago have developed a fervent following, touring 200 nights a year since their formation in late 2012.  For these Birds, singing for a room full of new people, hearts wide open, keeps off the cold and chases off the shadows.
We also welcome The DuPont Brothers to the stage to get the evening started. Two brothers living on the indie circuit, driving around sharing their stories through songwriting. That's life for Sam & Zack DuPont. Based out of Burlington, VT the sibling indie-folk-rock duo has kept busy on the road since 2013.
Join us next Friday, November 17 at 8:00pm (doors open at 7:30). Click here for tickets and more info.
Emedin Rivera & Tropical Turbulence with Edgar Pagan and Bele Beledo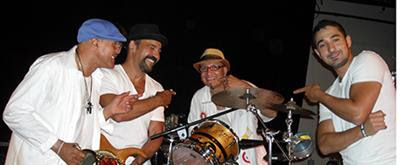 Three-time Emmy Award-winner and percussionist Emedin Rivera and his Latin jazz trio, Tropical Turbulence, bring their unique sound back to the Odeon stage. They will be joined by Syracuse's own Edgar Pagan and Uruguayan guitarist Bele Beledo.
Emedin Rivera was born in the Bronx and raised in Caguas, Puerto Rico. He started playing the bongos at the age of 8, and his exposure and passion for music came from his father and uncle who both played in a trio in Puerto Rico.
Emedin has a unique and creative ability to incorporate and blend his Latin Caribbean African influences into a vast array of musical styles. He has developed his own system of playing drums and congas simultaneously, (sounding like three people), calling it "Percussion Kit". Emedin is well known for his sound effects, many of which are hand made by him. They can be heard on some of the National Geographic shows.
Join us next Saurday, November 18 at 8:00pm (doors open at 7:30). Find more info and purchase tickets here.