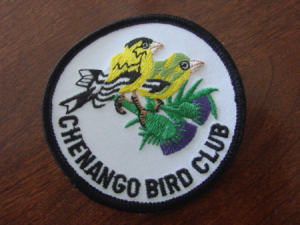 Calling all birders! Please join Chenango Bird Club members as we conduct the annual Sherburne Christmas Bird Count on Saturday, December 14. We need folks to join teams of birders to cover the 177 square miles of the count circle. You may participate any time during the day from dark hours listening for owls, to daylight hours driving the roads of the Sherburne area looking for daytime bird activity. This will be the 40th time the Sherburne Count has been held and the 120th year of the Audubon Christmas Bird Count.
If you are available to participate, please call count organizer Fred von Mechow at 607 674 4214, email Fred at fpvonmechow@gmail.com, or come to the planning meeting at the Chenango Bird Club monthly meeting at Rogers Center on Wednesday, December 11, 7:00 PM at the Visitor Center. Park in the staff parking lot next to the building by taking the driveway off State Hwy 80 just west of the main visitor parking lot exit. Curve around the pond to the right to reach the parking area. Refreshments will be served at the planning meeting.
Everyone interested in the Chenango Bird Club, bird watching, or participating in the Christmas Bird Count is encouraged to attend the meeting. Program attendees are welcome to stay for all or part of the evening activities.
The Chenango Bird Club presents monthly programs (except January, February, and March). Nature enthusiasts of all levels and interests are invited to all Chenango Bird Club programs, free of charge. Rogers Center is located one mile west of Sherburne Village on State Highway 80. Park in the main parking lot and walk to the west end of the lot to the Bird Exhibit Cabin.
Call Club President, Charlene LaFever at 607-334-9112 for more information on Chenango Bird Club activities.